This is a blog series. You are currently in Part 1 of 4.

Part 1: Online trainings Learnings by Yannic - equipment and organisation
Part 2: Online trainings Learnings by Yannic - Start of the online training
Part 3: Online trainings Learnings by Yannic - Continuously during the online training
Part 4: Online trainings Learnings by Yannic - completion of the online training
In the last few days I have conducted various online trainings and webinars. Due to the current crisis situation (COVID19), various trainings and courses had to take place online and not as planned in the classroom or meeting room. This situation brings with it new challenges. In this article, I would like to record the results of the online trainings I have conducted. Most of the lessons learned refer to online trainings of several days, but also apply to shorter, for example half-day trainings.
First of all, I would like to talk about the equipment and organization of the workplace from which the training is controlled. With the following equipment and organization of documents and tools you are well prepared.
Additional monitors
In order to be able to organize the training efficiently, I recommend at least two monitors. Use one monitor for shared content, such as PowerPoint presentations and demo environments. On the second monitor you should have all documents and course tools ready and arranged.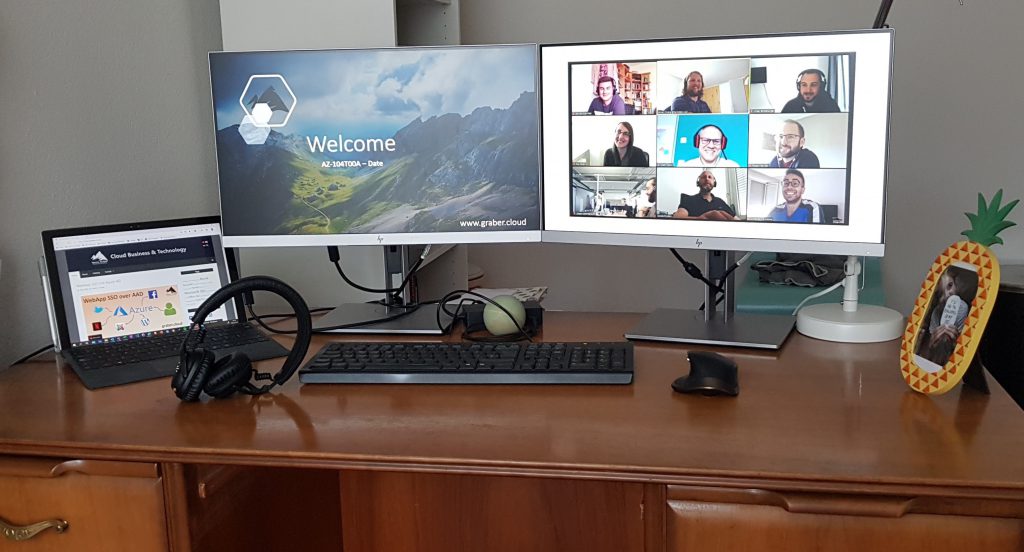 Course documents and tools
Course materials must be readily available, especially if they are needed spontaneously during the course. If this is not the case, this will lead to waiting times. These waiting times can quickly appear unprofessional and unpleasant for a participant. Moreover, such unnecessary waiting times disturb the concentration of the participants. The temptation becomes greater for them to do something on the side and you lose the attention of the participants. The following is a list of documents and tools that you should have at hand on the second monitor, sorted and organized.
List of participants with access codes for labs, documents and if necessary Azure Pass
Trainer Manual or Trainer Course Guide, if available
Online Meeting Tool (Microsoft TEAMS, zoom)
LAB-Tool, if available
LAB documentation, if available
Tool for notes, e.g. for questions that require further clarification (Microsoft OneNote, Notepad, etc.)
Webcam
Despite the distance, you should try to personalize online trainings as much as possible and brand them with your own brand. Especially for longer online trainings, for example online trainings lasting several days, it is important that the participants have a face from the trainer. In my opinion a webcam is indispensable for trainings lasting several days. If possible, you should make sure that the webcam is placed as centrally as possible, above the two monitors, so that you can automatically watch the participants during the training and address them directly. Lateral shots are unfavourable, because it looks as if you are talking past the participants. But if it is not possible to do so, the lateral shot is still better than no shot at all. If you don't already have a webcam, tell your participants in advance that they should organize one for the online training if possible.
Continue with Part 2: Online trainings Learnings by Yannic - Start of the online training